Our staff's commitment to you
Our staff is committed to providing support, compassion, information, and direction as needed to all members of our community, their families, and friends who are dealing with loss and grief.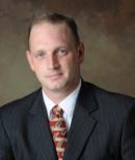 Ryan Shoffstall
Owner/Funeral Director
Ryan was born and raised in the Indian Lake area with strong ties to the community. A 1993 graduate of Indian Lake High School, he furthered his education at Adrian College and graduated in 1997 from the Cincinnati College of Mortuary Science. In 2005, Ryan earned his MBA from Tiffin University. Serving his apprenticeship under Myron Van Horn, he has served Indian Lake and the surrounding area for over 20 years, 13 years as a licensed funeral director and embalmer. Ryan married the former Teasha Cook who along with Ryan is very active in the community. They are the proud parents of their daughters, Ella and Kail. Ryan continues a family tradition as an active member in the community, and currently serves as Mayor of Lakeview and serves on boards for The Logan Acres Community Foundation, LUC Regional Planning Commission, United Way and Logan County Emergency Management Agency, is a member of the Lakeview Business Group and has been a coach of summer baseball, softball and soccer for many years . He is a member of the Grace Chapel Christian Union Church in Santa Fe.